Our interior design solutions for your hotel
Bedroom specialists for sixty years, we can easily meet all the night-time furnishing needs of your hotel, holiday cottages or other guest accommodation. We offer a wide range of beds, thick mattresses and modular storage solutions. There's a Gautier Business solution for everyone.
Boutique hotel
All the bedrooms in this charming 5-bedroom hotel were designed by Gautier teams.
Each one is different and conveys its own identity, while offering the perfect blend of design and functionality.
1 night for 2 in a studio
The owner of this 1-room studio in a seaside resort has focused on saving space with our Nocturne pull-down bed solution. Behind the bench seat is a double bed with a thick, high-quality mattress that guarantees a comfortable night's sleep.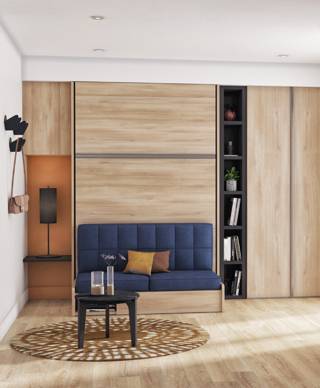 We help you with every step of your project
Shops, offices, restaurants, hotels ... our teams support you on all your space planning projects. We will always have a Gautier Business solution for you.
Start a project