Interior designers' advice
What is the best way to furnish a dining/living room in a small space?
Furnishing a small lounge or dining room is always a challenge. How can you make it a pleasant space that's practical for everyday use? If this living space is small, you'll need to carefully consider style and practicality when it comes to choosing your furniture. It needs to be able to easily accommodate friends and family without overloading the space with furniture that clutters up the room the rest of the time. So what is the best way to furnish a dining/living room in a small space? Here is a selection of 5 practical and ingenious ideas.
Use modular furniture that fits the size of your room
Before putting a dining table in a small lounge, checking that it's suitable for the size of the room is crucial. Allow at least 70 cm all around your dining table and choose an extending table (or console table). A great way to save space, you can easily double the surface area of the table top for lunch or dinner with friends. Stackable chairs are also a really practical way to avoid cluttering the space once your guests have gone home. If your TV is not in your lounge, you can avoid purchasing a large sofa and go for two cosy and comfortable armchairs instead.
Our extendable tables
Stay minimalist in your decor and your choice of furniture
Keep your living room light and airy by avoiding too many ornaments that clutter up your walls and furniture and shrink the space even more. This is especially important when the room is small. The most important thing is to ensure the decor in a small lounge/dining room is consistent; this will give your room a more stylish, immaculate look. Rather than adding random little items, try to choose quality ornaments that complement each other. There's no reason why you can't choose bright colours for your decorative items to add character to your small lounge. Choose white for your walls and add interest with your furniture by mixing and matching materials such as wool, fur, fabrics and wood to retain an inviting feel.
Separate the eating space from the lounge with a useful piece of furniture
When it comes to furnishing a small space – especially if it's a lounge/dining room – a display cabinet between your kitchen and lounge can be a clever idea to let the light stream through and make the room appear bigger. When choosing your furniture, think about the specific purpose of each unit to avoid duplications. But if you have room for two, that's even better! For example, if you want to create a partition between your dining room and lounge, a bookcase is ideal. Otherwise, positioning your sofa in the middle of your room (rather than against the wall) can divide the room into two different areas.
Make the best use of your walls to save space
No more large sideboards in a small living room! Ensuring your furniture does not take up too much floor space is crucial. That's why wall shelves are the perfect solution for furnishing and decorating a small lounge/dining room. Adding a large mirror will also create a clever optical illusion. A leafy picture will bring a refreshing feel to the room, as well as ingeniously adding depth. Also consider adding lighting to make your room appear larger. A set of frames on a wall can also make your lounge/dining room seem bigger. Keeping your table decoration to a minimum will ensure your small living room retains its uncluttered feel, by simply adding a bunch of dried flowers with a stylish pendant light above it and nothing else. Furniture with transparent elements (such as a coffee table and ornaments) can also help give your living room a lighter feel.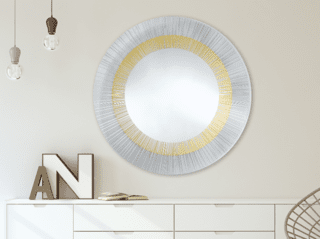 Add rugs to separate the spaces and add warmth to the lounge
An ingenious way to define floor space in a small lounge/dining room is to add modern and elegant rugs. As well as adding a decorative touch without making the room look cluttered, one or more rugs can make the space look even more homely and inviting. Also go for different colours (avoiding dark colours that can make the room appear smaller) or wallpaper on certain walls: this will add interest and give a subtly different feel to each area within your small lounge/dining room.
Our rugs