Product details
Les lignes graphiques de cette suspension conviendront idéalement à une pièce telle qu'une salle à manger ou encore un salon. Laissez-vous séduire par cette entreprise française basée près de Vichy. Détentrice d'un véritable savoir-faire, Un Autre Regard est spécialisé dans la fabrication de luminaires. Il s'agit d'une équipe de femmes et d'hommes exigeants qui allient savoir-faire artisanal et industriel acquis par la pratique du geste et du métier. Le jeu d'ombres sur les murs vient créer une véritable ambiance chaleureuse. Nous sélectionnons nos fournisseurs déco avec beaucoup d'attention. Nous avons à cœur de travailler avec des partenaires aussi exigeants que nous, qui partagent les mêmes valeurs.
Features and dimensions
Reference
2TA0906
Materials
Metal construction + polymer ribbon + PVC lampshade
Details
| | |
| --- | --- |
| Assembly | Non applicable |
| Weight | 1.7 kg |
| Dimensions | H. 26 cm |
Origin : France
Manufacturer: Art et Décors
Origin: France
Produit origine France
Continue on your computer or tablet to start a new project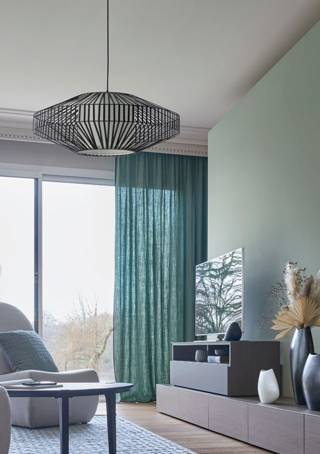 Why you'll love our home decor
We carefully select our suppliers
Helping you choose the best decoration for your home is important to us. We select our suppliers for their expertise and values and we make sure their products are developed with the utmost quality and care. That's why we work with them.
Our products suit any style
So you can make the most of every room in your home whatever your style, we have created decorative elements that work beautifully with all Gautier's collections.
Gautier: furniture and so much more!
Our wide range of interior products has everything you need for your home, from furniture to decoration. We are here to help with every little detail.
Gautier & you
Our collections look nowhere better than in your home. Share your layouts with us via #MyGautier and mention @gautier_france
Need some inspiration to find the right style?