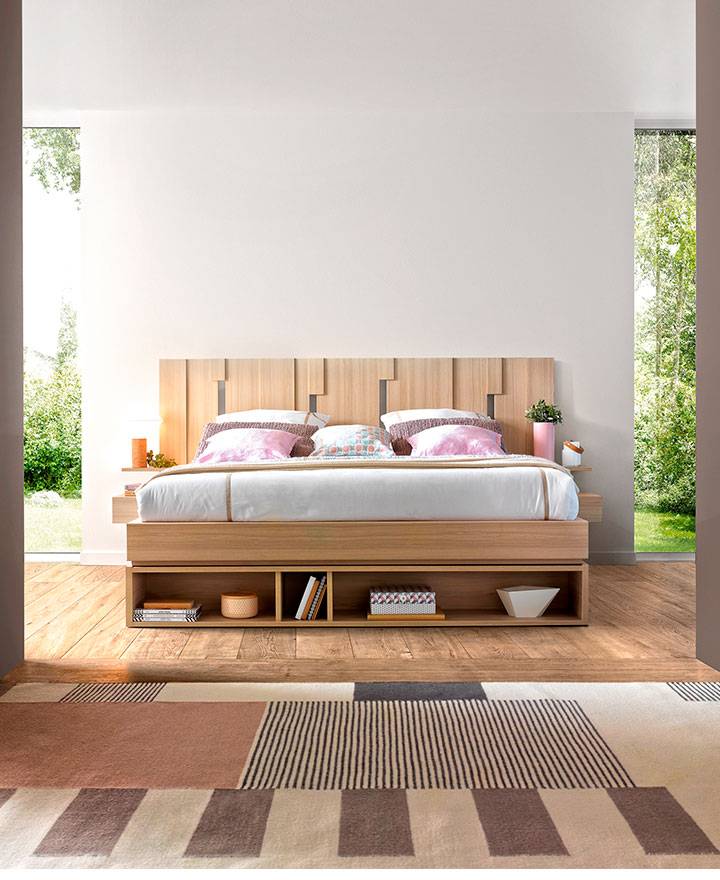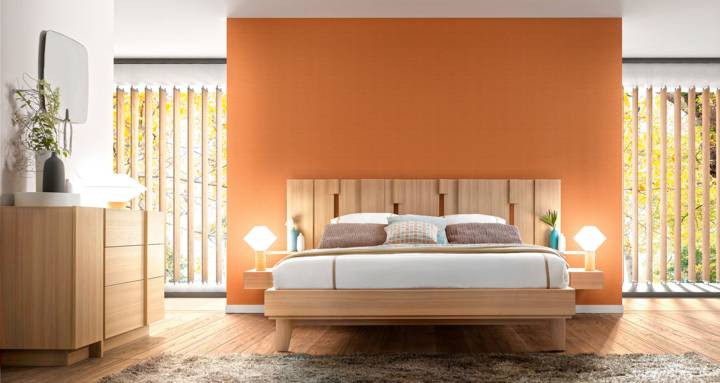 Symphonie bed
A bed with a unique style
Want to see it in your home in augmented reality?
Display the 3D view on your mobile and activate augmented reality to visualise this piece of furniture in your room.
Click on the cube icon below the product image and wait until the module loads
Click on the blue icon visible on the 3D image. Soon you'll see your furniture in your room!
Disponible en plusieurs finitions
Bed dimensions
Finish Oak
Product details
Love treating yourself to unusual furniture? Inspired by contemporary architecture, this bedroom from the SYMPHONIE collection creates a lightweight feel with its fine, elegant bed surround and bevelled legs. The vertical lines and textured effects on the headboard give it a deconstructed style. With its openwork sections and contrasting shapes, the SYMPHONIE bed is full of character. Combine it with complementary pieces from the same collection to furnish your bedroom in a matching style. Really light and airy, the bedside tables and other storage furniture are subtly raised off the floor.
Features and dimensions
Reference
1B39103
Materials
Frame and fronts made from particleboard covered with structured natural oak effect melamine. Plain white foil or melamine, white lacquered Edges: flat and rounded or thick 1mm natural oak effect ABS.  flat and rounded white lacquered Mouldings and bed surrounds in fibreboard covered with structured natural oak effect or white foil. Drawer frames in natural structured oak effect foiled fibreboard White fabric Height-adjustable hidden roller runners and soft-close mechanism. All furniture is self-assembly except where marked * (fully assembled with possible exception of handles, floor protectors and castors).
Details
Materials
Particleboard
Assembly
Meuble à monter soi-même
Weight
73 kg
Dimensions
W. 166 cm * H. 112 cm * D. 200 cm
Package sizes
Package 1: 33 x 11 x 203 cm (33 kg)
Package 2: 113 x 6 x 116 cm (26 kg)
Package 3: 34 x 8 x 126 cm (14 kg)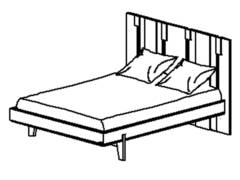 Download assembly instructions
Origin : France
Manufacturer: Gautier
Origin: France
Produit origine France
Guarantee : 10 years
10 years warranty
The 10 years warranty applies to Gautier furniture.

GAUTIER will resolve, for free, any manufacturing defect which may arise following domestic and indoor use of the product, unless it was a display model.
The warranty is limited to the repair of any parts or furniture deemed faulty or the replacement thereof by a comparable product. Any other service or indemnity is excluded from the guarantee.
In the event that an original part cannot be provided (item out of stock), a compa-rable component or coating will be offered.
Ideal with
Find out more about this product
Continue on your computer or tablet to start a new project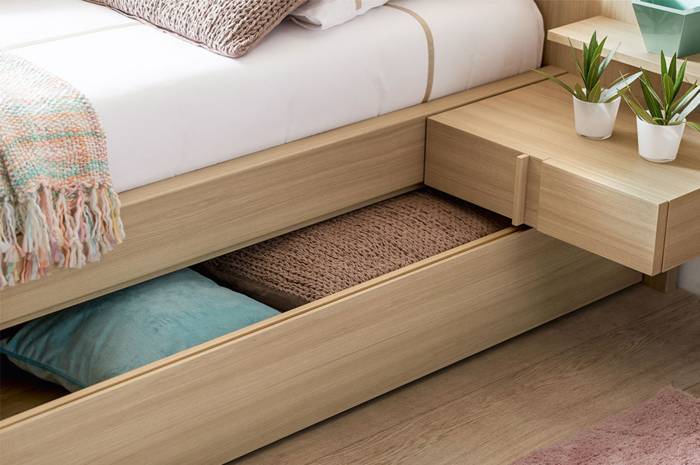 The light and airy feel is accentuated by the headboard that features various heights and textures.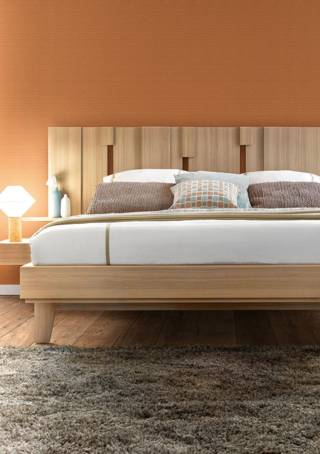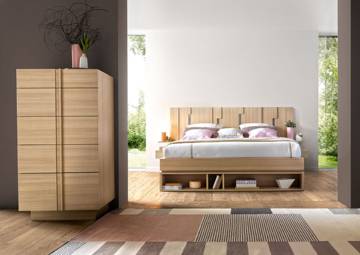 Sturdy with vertical lines, the SYMPHONIE bed is really unusual and stylish. Its modern feel particularly shines through the shape of the headboard.
There is a choice of two finishes to create two completely different looks: our advisers will help you make the right choice.
The SYMPHONIE bedroom is ideal for fans of designer furniture.
The lines and shapes of this collection bring a uniquely elegant feel to your home. As well as its light and airy feel, this furniture boasts a textured design and is visually striking. Show off your taste for modern furniture and your sense of style with the SYMPHONIE collection.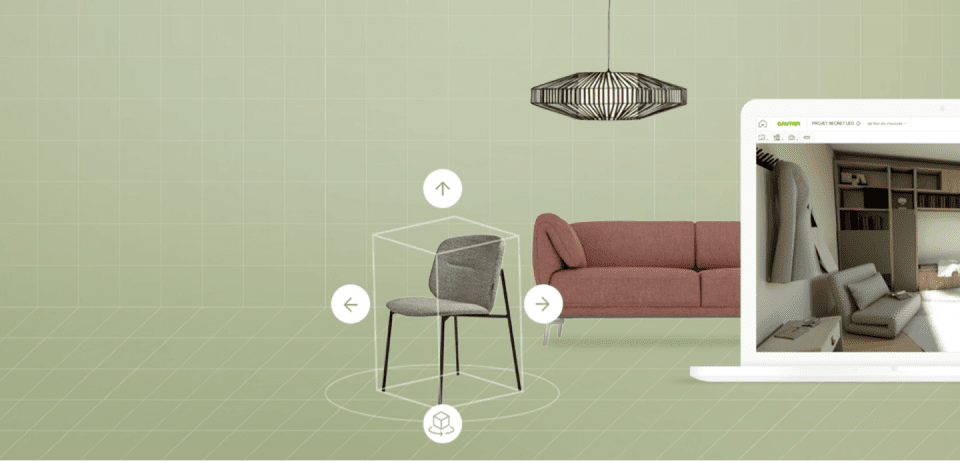 Intégrez ce produit à votre projet de chambre avec Gautier Home
app.smo.product.content
See the tool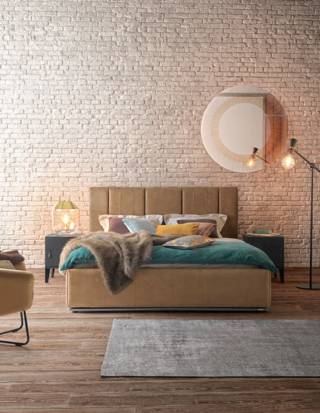 Why will you love our beds?
Hygienic, comfortable beds
You can rely on our contemporary carpentry expertise! Our beds are perfectly designed to meet all your requirements in terms of sturdiness and comfort. Our beds set the tone and effortlessly create that stylish, restful feel you would expect from a bedroom.
A piece of furniture that plays a central role in a bedroom's decor
Our unique attention to detail extends right down to the smallest trims. Comfortably snuggled under your duvet, you'll appreciate the stylish look of our beds which are traditional as well as contemporary.
Practical beds to make life easier
The optional parts to add to our beds mean you can let your imagination run wild to create a simple room with a light, airy feel that's perfect for a great night's sleep. Try to maximise all your available space by choosing drawers to slide underneath your beds.
Gautier & you
Our collections look nowhere better than in your home. Share your layouts with us via #MyGautier and mention @gautier_france
We will help you complete
our bedroom
Seen something that grabs your attention?
We thought you might
like these products
Need some inspiration to find the right style?